My Role & Contribution
UX researcher
- conducted online and field research, interviews, and user testings
UI designer
- created the user interface of bus station kiosk and mobile app
UX designer
- designed and prototyped iCBus solution according to the human-centered design principle
Product designer
- incorporated professional feedback and user testing results into the next round of iteration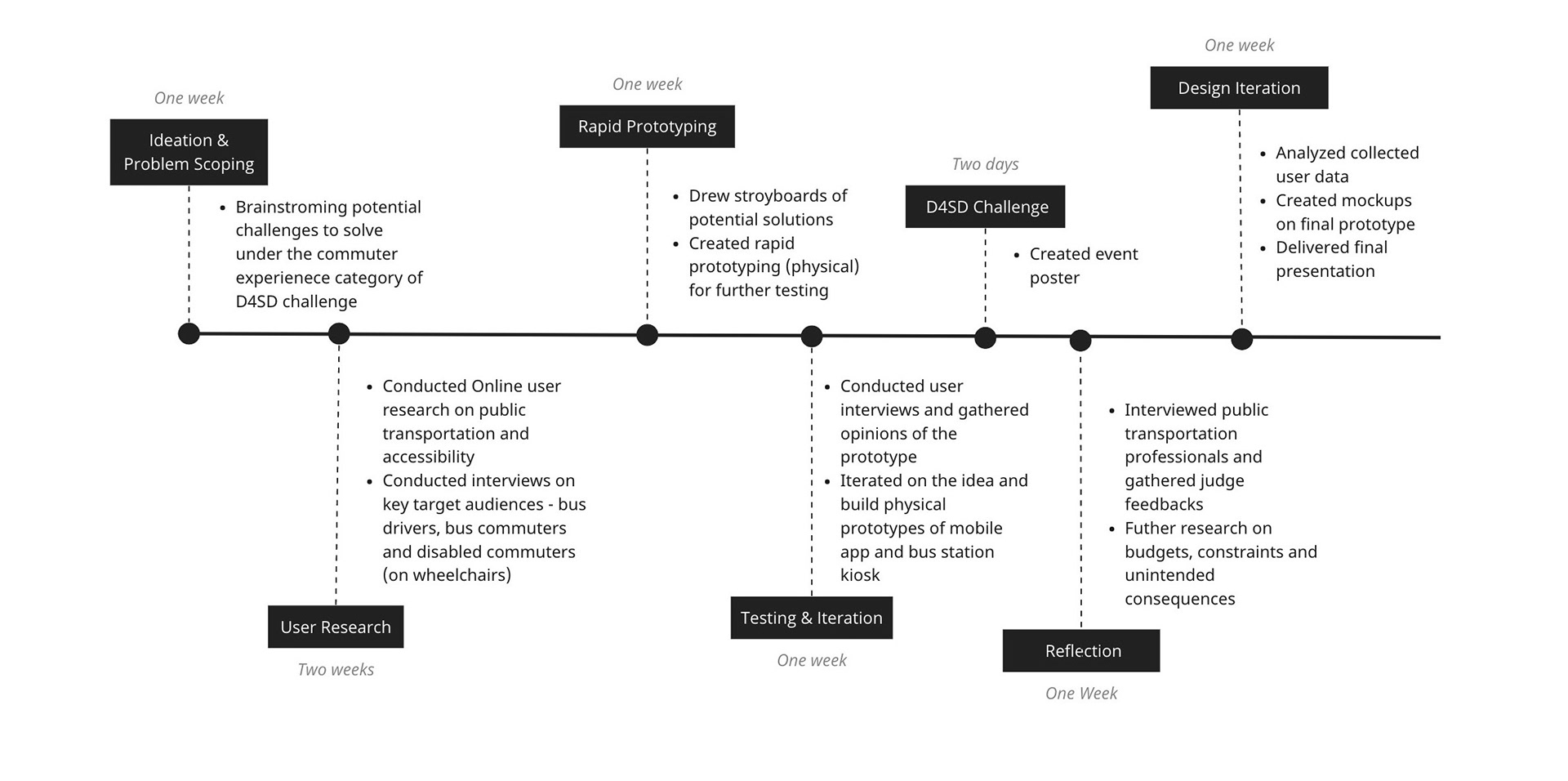 Mobility is about everyday problems and pleasures of transportation and being transported. The aim of Design for San Diego (D4SD) Mobility Challenge is to solve the issues most important to San Diego residents by focusing on four broad areas: promoting walking and biking, enhancing the commuter experience, improving accessibility, and preparing for autonomous vehicles.  
When I and my teammates first met up together, we all invariably decided to work on the category of 
enhancing the commuter experience
. Because we all were commuting students, we can totally relate to the pain and frustration in daily experience with public transportation.
In San Diego, the bus is the primary public transportation tool used by the locals (San Diego Metropolitan Transit System has 128 trolley cars and 800 buses), so we decided to narrow our focus around the 
bus commuter experience
. 
In our initial online research, we found out the following interesting facts about MTS bus riders:
- Increasing number of people are taking public transit in San Diego (especially buses)
- Most bus-riders take buses to school or to work (66% of all bus riders)
- There is a non-ignorable population of disabled bus-riders with wheelchairs (Special needs riders had a 40% increase in ridership compared to the previous fiscal year)
Field Observations & User Interviews
Then, we interviewed bus riders, drivers, and disabled bus riders (people in wheelchairs particularly). We found out the following interesting insights:
- Bus riders often encountered full-bus situations at major bus stations on weekdays
- Bus drivers told us that buses usually get full very quickly during rush hours (around 6-8 PM & 3-5 PM)
- Disabled bus riders said they sometimes cannot get on the bus (it happens about once or twice each week), because there are only two seats available for fixing wheelchairs on each MTS bus

"How might we help MTS bus riders to make more informed and efficient decisions during their commute?"
From our field observation and interview results, we noticed that bus riders often wasted a great portion of their time during their commute. 
Sometimes they need to tell and wait for other riders to squish further back to make room for wheelchairs, or sometimes they spent a deferred long time waiting for the next bus, not knowing that other bus routes at the same bus station which reach the same destination are vacant and ready for departure. Passengers are not well-informed enough to make smart decisions, and they need more bus information to regulate their time rationally – after all, they are heading to work/school, and time is valuable for them. 
To sum up, time-wasting is a recurring theme from our user interview results, and 
bus capacity
and
timing
 seem to be important factors. 

Thinking about how to update real-time bus capacity to its riders, our initial proposal is to achieve real-time bus capacity monitoring by using
CCTV
 in the bus and
weight sensors
underneath the bus, so that we can estimate the approximate fullness percentage of the bus. 
We intend to display this information at major
bus stop kiosks
 so that people waiting to get on the bus can make more informed decisions on the route choice. 
On the other hand, we propose to implement 
accessibility buttons
 for people in wheelchairs at major bus stops. It works as an alert button to the upcoming bus and its riders – disabled people push the button to trigger an alert that broadcasts the request in advance so that the bus driver and the passengers can make room in advance to and it saves everyone's time. 


People Liked the Idea, BUT...
We conducted a second round of the interview around our initial design and storyboard. 
One of the interviewees, who is a bus driver, said it would be a great idea to make communication between riders more efficient.
Advance notice of wheelchair onboarding request will make his life easier, his voice at least
– so he can save the yelling
"Move over to the back, this seat is reserved for wheelchairs!!!"
Other interviewees, mostly riders, said "I'd rather know the bus capacity information in advance. If I already walk to the bus station, knowing the upcoming bus is full doesn't help at all. I can't do anything except wait there."
We then realized: 
The real-time information needs to reach more people, and most importantly, reach before they commit to their transit decisions. 
Then we thought we could develop a new 
Mobile App
, updating the information in real-time so that riders can look them up on the go. 
Think about it, if you could find out the next bus will be too full to get on, you can still reply to two more emails or grab one more cup of coffee before leaving home. Wouldn't that be cool? 
Also, for mobile app, it would more flexible to indicate wheelchairs spacing availability on the app. Disabled people don't need to get to the station and send an alert – they can also do it on their phone.
Civic Professional Thinks Otherwise...
We contacted and interviewed 
Maya Rosas
over the phone to seek professional advice, who is the Director of Policy at Circulate San Diego.
She provided valuable insight that instead of developing a whole new app and marketing it, we can
sell the idea to existing map/transit apps that already gained a large and stable user base
, such as Google Maps. In this way, we can avoid a big portion of spending, and also allow users to enjoy a more integrated service. 
D4SD challenge 
iCBus entered D4SD challenge along with other 22 teams working on other topics such as 
promoting walking and biking, improving accessibility, and preparing for autonomous vehicles,
 and in the initial round of judging, our project was scored 
top 8!
Although our project
wasn't selected as one of the finalists
, it was an amazing experience for me and the team.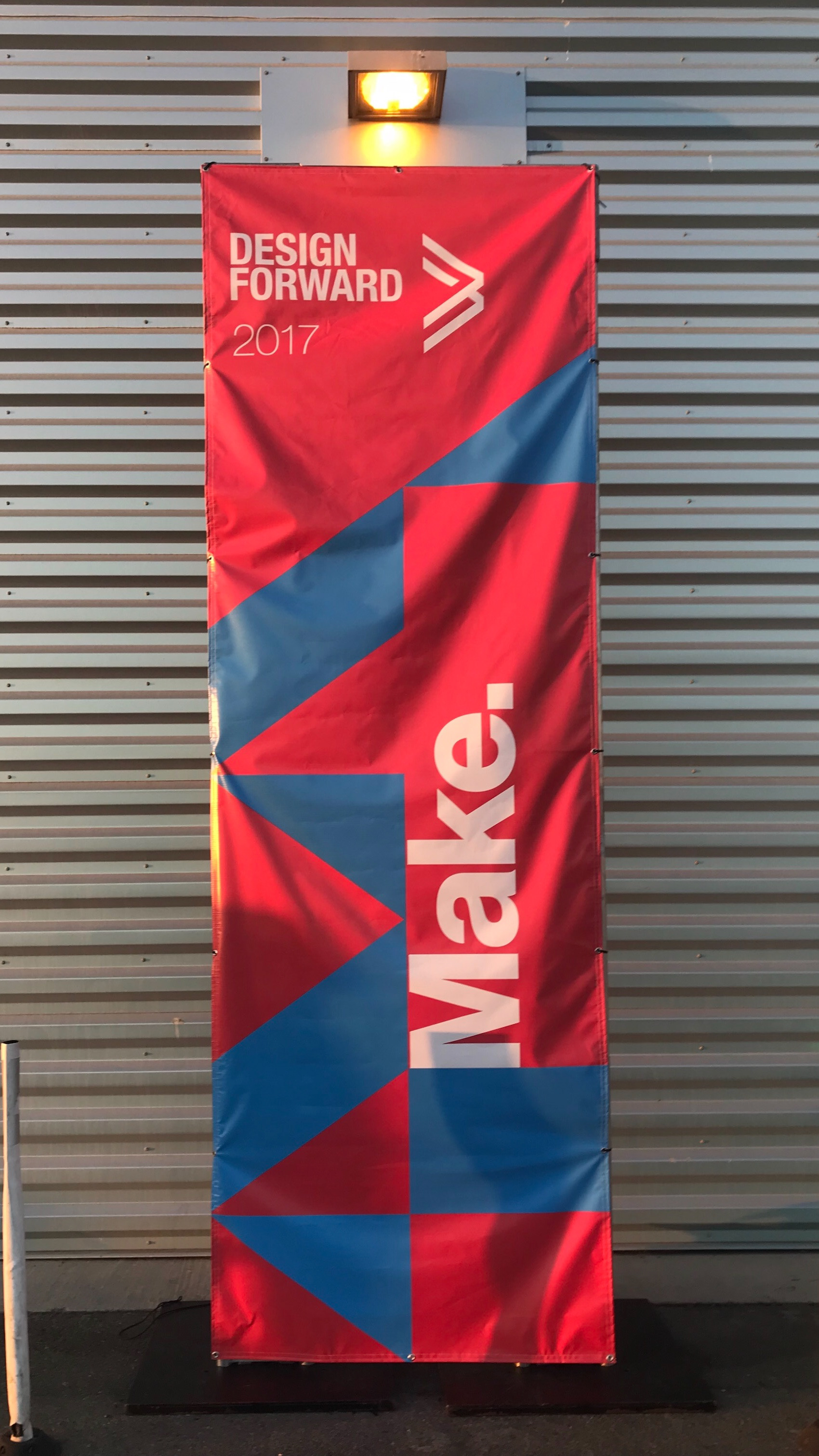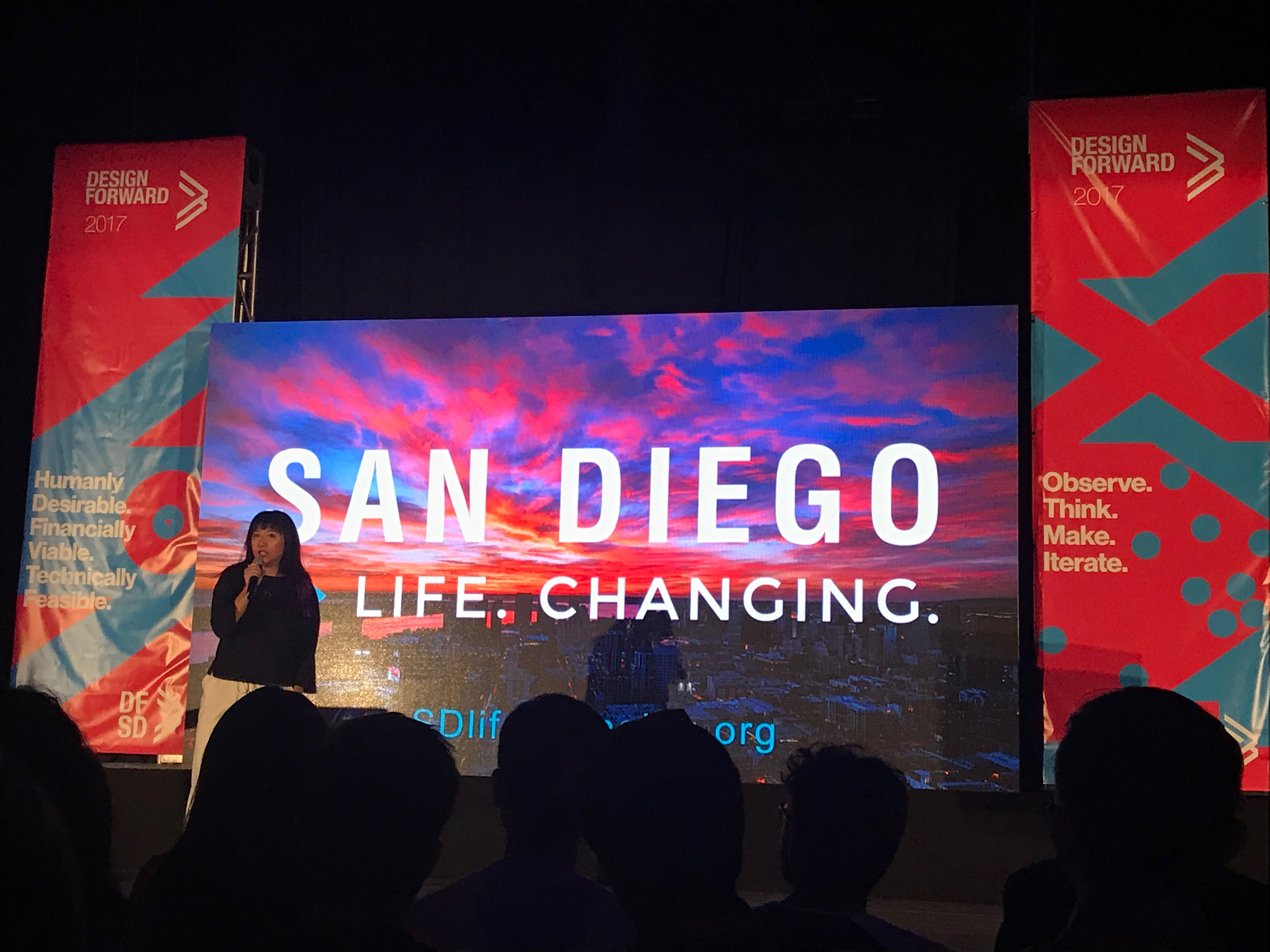 After the Design Challenge, Iterations Did Not Stop
After the D4SD challenge, we received more feedback from judges concerning:
1. The
potential abuse of bus station kiosk
regarding the accessibility buttons 
2.
The cost of implementation
of CCTVs, weight sensors
Indeed, the cost of implementing CCTVs and weight sensors on 800 buses in San Diego would crazy! Our design will never be adopted by MTS. We realized the hard truth:
"Ideas Don't Matter If They Can't Be Implemented"
Given the feedback and suggestions, We decided to further iterate our design and mainly –
Change The Way We Acquire Capacity Data. 
During our field observation, we noticed that MTS bus drivers have a
Ticketing Machine
that they used to count riders' payment method and contact MTS. We interviewed some drivers and we heard their complaint about
how slow the machine responds
. 
Then we decided to reference Uber and Lyft to
upgrade this machine to a tablet
with newly added features for us to collect data.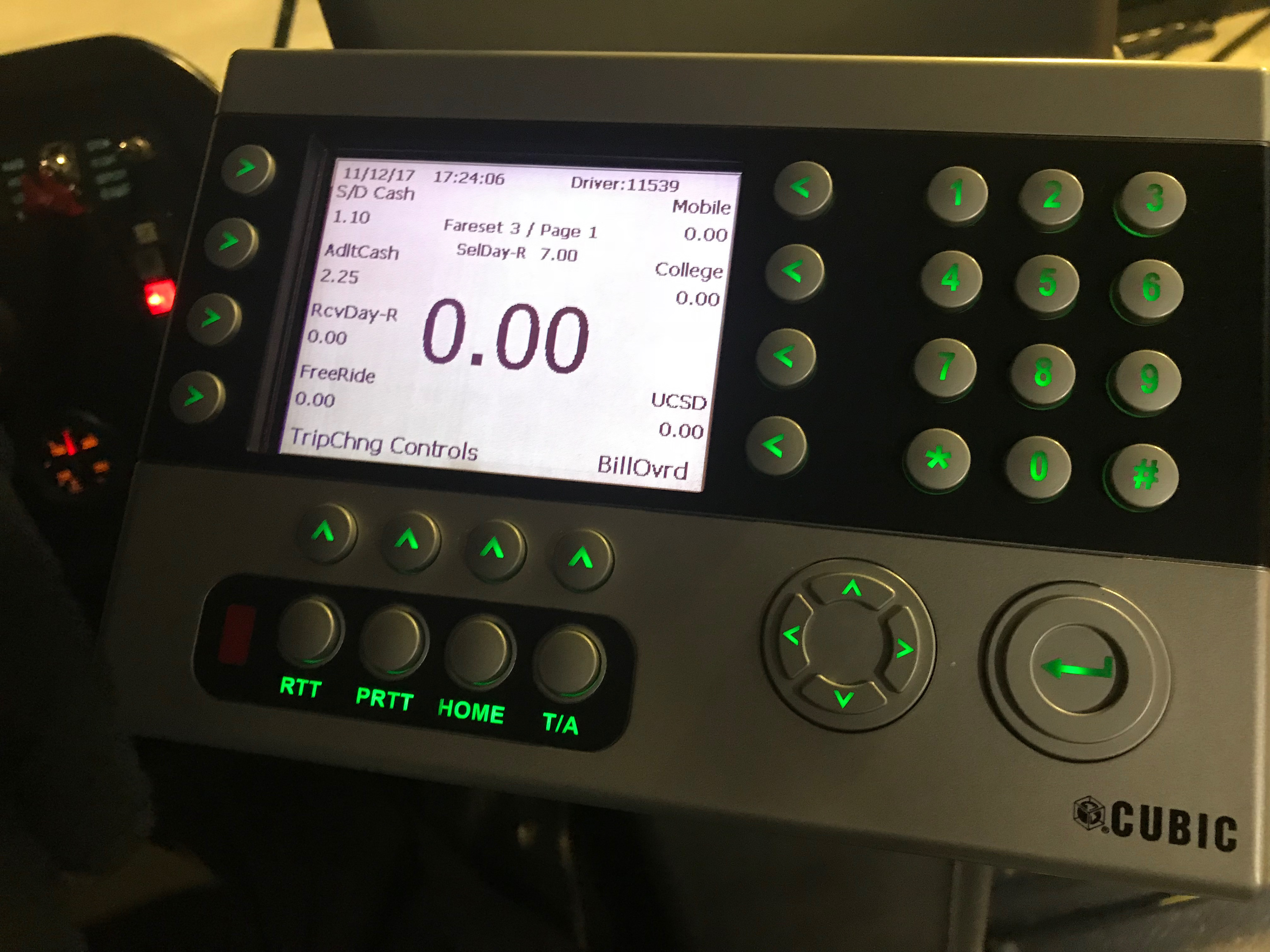 An Integrated Real-Time Bus Communication System
The new interface for drivers will leave only the most valuable information on the home screen, and hidden other not commonly used features in the menu (according to the driver's interview response). 
On the home screen, there will a sliding bar for the bus driver to estimate the capacity of the bus at that particular stop. There are also two buttons that indicate wheelchair space availability. Red indicates the space being taken, and green shows it is available. At each stop, after the driver counting riders and payment, they will need to slide the capacity bar and press the wheelchair button if needed. The information will be sent to bus riders' mobile app updating the status of the bus. 
When a person with wheelchair verified his disability status on the mobile app, they will be able to access the wheelchair requesting function that's built into the app. They will be able to press the green wheelchair button to request the space on a particular bus, and it will trigger a bus broadcast announcing the request that will allow riders to make room and vacate the seat before this person get s on the bus. 
People Loved It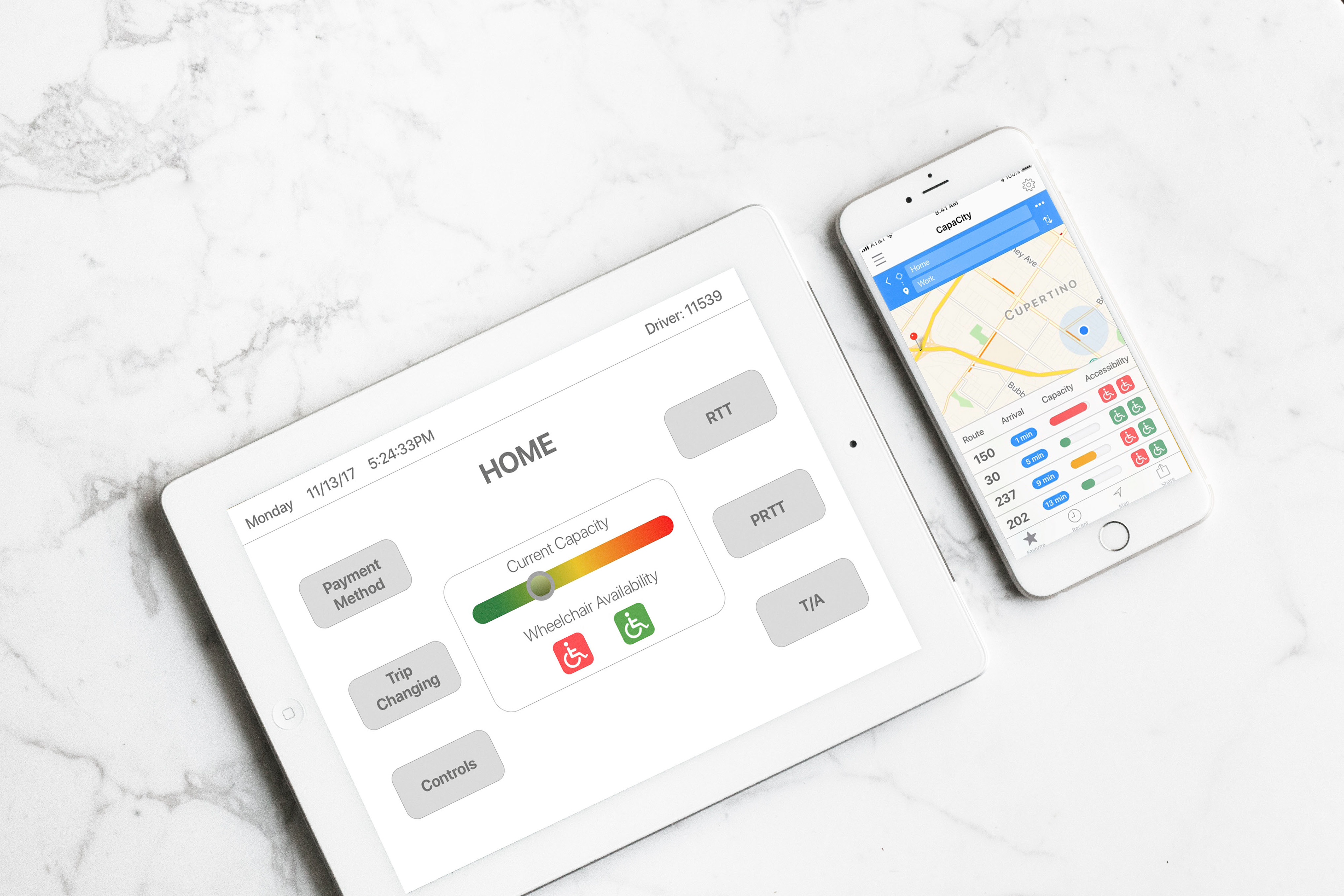 User Interview (samples) Regarding the Prototype
We showed our prototypes to MTS bus riders and drivers and asked about their opinion about it. Here are some of the questions we asked and the feedback we got.
What do you think of these new features (capacity & accessibility buttons)? 
Rider: "I think these two features are very thoughtful. If the riders can know about wheelchair onboarding beforehand, they will have time to find other seats."
Driver: "It looks more reasonable for people to use their cellphones (the iCBus mobile app)."

Do you prefer MTS tablets or personal devices like what uber drivers have?
Driver: "I think tablets are better. Yeah, this is good. I'd rather not to use my personal device for work."
Right now,
the average time waiting for a wheelchair boarding is about 3 minutes
, including the time of riders making space, lowering ramp, wheelchair getting on the bus, and fixate the wheelchair. Riders at the next stop will be waiting longer for the bus. 
If the bus is already full at next stop are unaware of the situation, they
wasted even more time waiting at the bus stop for the next available bus

.
With iCBus, the real-time capacity information can save everyone at least 1 minute with wheelchair boarding situation by informing both the driver and riders of the request beforehand. Riders waiting at the bus stop can also make more flexible plans and informed decisions according to bus availability. 
Little by little, the small minutes iCBus saved for everyone engaged in public transportation will add up and make a huge impact.  
More user testings & design iterations are yet to be conducted. Our final goal is to upgrade iCBus to a
forecasting system

–
 data-predicted passenger flow at each bus stop and cross-reference it against other data (e.g. weather) to better inform the capacity trend.  
Lessons Learned
1. Instead of creating new apps to solve any challenges, think about the competitions out there in the software market and consider how to reach as much as possible target audience. Maybe that means to reach them in their familiar ways, or integrate it on an already matured platform. 
2. Good design ideas need to
ground to reality,
which means include considerations about
real-world constraints
such as budget and feasibility.
3. Small design changes – even those only save people a minute of their time – could enhance the commuter experience in public transportation and those small changes could add up to a bigger impact as user experiences accumulate. (from what we were told at interviews anyway)
Team Member Yuanqi Wang & Yujie Wang
Interviewees including MTS bus drivers, bus riders, transportation professionals