My Role & Contribution
UX researcher
- conducted online and field studies, interviews to gather user insights
UX designer
- created storyboards and moodboard, prototyped and designed the core functionalities
UI designer
- created mockups, design specs and user interface of the app
Exercising is crucial for every human being's long-term health. We noticed that even though most young adults understand its importance, some of them still find it hard to
build and maintain healthy exercising habits
.
Our project aims to create a
mobile app
that
helps
incentivize
users to start new exercise routines, provides them with
guidance
in exercises, and promotes continued activity and ultimately the creation of healthy new
habits
.
​​​​​​​
- #1 barrier to exercise and healthy diet listed by college students was
"lack of time"
(
paper
)
-
Social support & exercise habit
of closed others is associated with one's exercise habit (
paper
)
- "Habits are response dispositions that are activated automatically by
context cues
" (
paper
)
- Set
Micro Quotas
(the minimum amounts of work that one must get done every day) &
Macro Goals
(the big picture items that one wishes to accomplish) (
article
)
75% - 90%
of people have headphones in
80%+
check their smartphones between sets
People usually in pairs or by themselves
There are unspoken gym etiquettes
Novices
watch other people swim
before they start
First time yoga goers
confused
when in yoga room
New gym comers
prefer to go
during off hours

1.
Initial Barriers
: Self-conscious/Limited time/Daily life affected/Intimidated by activity
2.
Motivation
: A healthier lifestyle/Desire to lose weight/Going with friends/ Getting out of comfort zone/starting something new
3.
Guidance
: Wants someone to tell them what to do | Needs a trainer to get to the next level | Guided workouts are less intimidating | Plan makes it easier to start a new activity
4.
Setting Goals

:
Setting and meeting specific goals | Weight loss, weight gain | Being able to lift certain amounts | Time constraints | "30 days challenge motivates me"
5.
Momentum
: Habit naturally continues | Friends, personal trainers, external motivation not required anymore
Personas and (initial) storyboards
Digital platforms
: Phone app, Smart watch
Physical Prototypes
: scan QR code on a machine at the gym, and see virtual reality video of person using the equipment. Virtual reality tree grows when you complete your workout (gamification)
Designers
: our team will design, Hab.it, the app platform for users to provide feedback to us. We will gather user feedback by adding a feedback feature in the app setting.
APP users
: users will start building exercise habits with Hab.it, and they can use feedback feature to send feedback to app designers.
Personal trainers
: Trainers can use Hab.it to keep track of their trainees' progress, and help them set long term goals.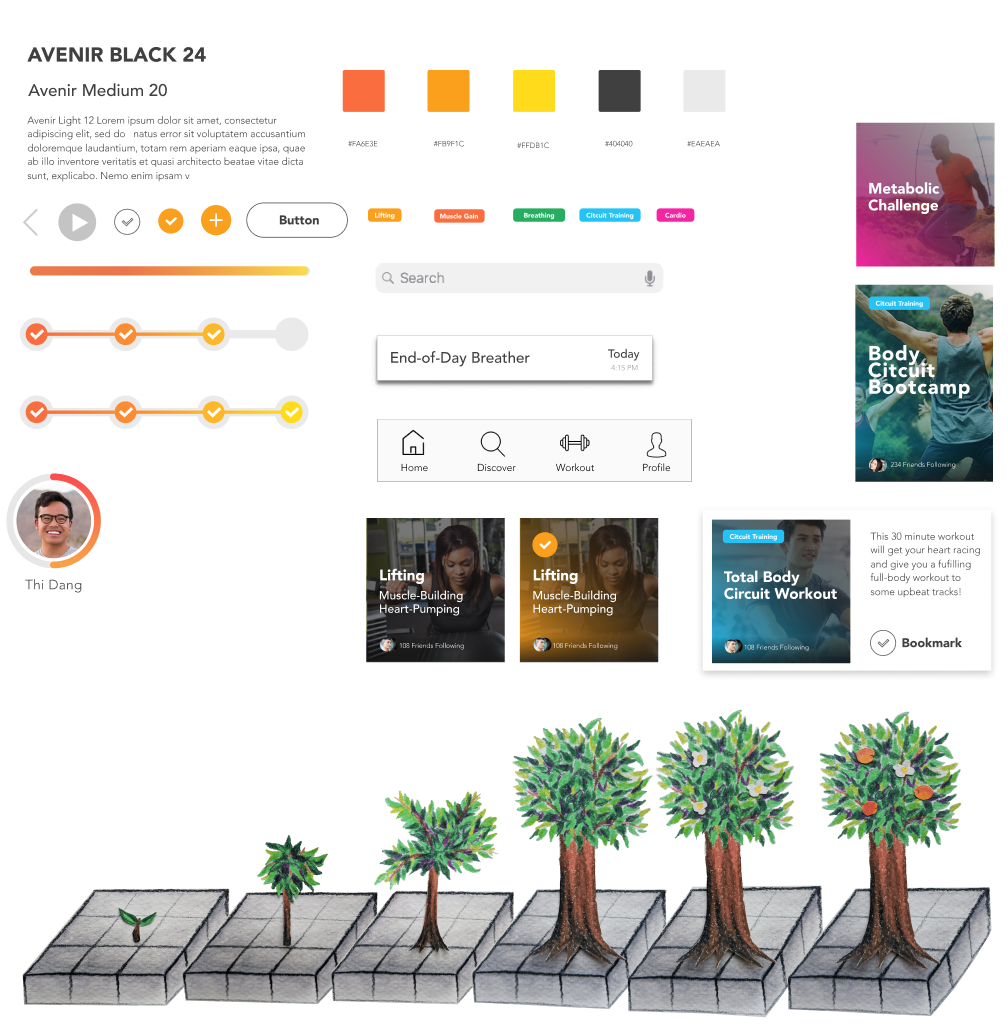 Wording is important
- things that seem clear to the creators might be ambiguous for users (E.g. "Workout" tab on nav bar - what does it do?)
Information architecture
and how you categorize and display things has a significant impact on usability of the app. Friends could be sorted by workouts and streaks rather than an arbitrary list format - makes it much more interactive and social of an experience
It's easy to lose sight of what makes your app
unique

.
 Although Hab.it is for habit building, there are tons of workout apps out there already - we need to build more upon the social interactions within the app because that's what sets it apart from other
Special Thanks to My Team Members
Alia Awni, Thi Dang, Edward LI, Yuanqi Wang